Scuba Diving in Barracuda City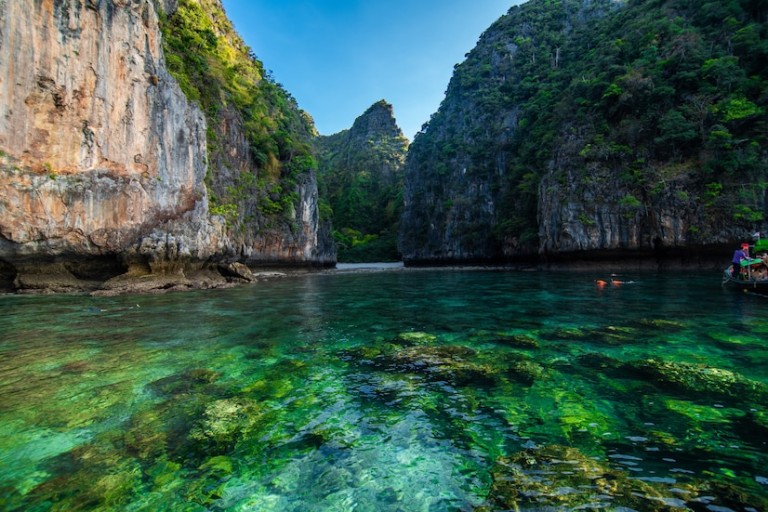 About Barracuda City, Havelock Island (Swaraj Dweep)
The best diving spot for ocean lovers, Barracuda City in Havelock Island (Swaraj Dweep) is home to coral belts with the ideal combination of both soft and hard coral populations. It has a rich ecosystem that houses abundant vibrant colourful fishes of different species. If you are lucky, then you can also successfully spot wandering sea turtles near the corals. For an extraordinary and unforgettable experience, this dive site is your best bet. If you want to expose yourself to the most incredible and extraordinary marine life, then scuba diving in Barracuda City is your one-stop destination. One can see colourful species of fishes, corals, turtles, and octopuses on the reef.
Suitable for
Intermediary or expert level divers
Aquatic life includes
Stingrays
Surgeonfish
Coral fishes
Turtles
Octopuses
Depth of clarity
From 25 to 30 metres
The best time to visit
From December to April
Important things to keep in mind
Before entering Barracuda City, foreign nationals will be required to obtain prior permission.
While scuba diving, do not pick corals to carry home as souvenirs.
Littering the coast with plastic bags, used bottled water containers, etc. is strictly prohibited. Carry the waste back with you to the coast.
Frequently Asked Questions
Q. 1 : What is the depth of the Barracuda City, of Havelock Island?

Answer: Starting at 25 metres and going as deep as 30 metres, Barracuda City is one of the deepest diving spots, and, hence, a magnet for scuba divers from across the world. Given the depth, the diving spot can only be explored by an experienced scuba diver who has advanced certifications in scuba diving.

Q. 2 : Can beginners and non-swimmers dive at Barracuda City?

Answer: Unfortunately, Barracuda City, while very beautiful, cannot be explored by divers who are new to scuba diving, especially, if they do not know how to swim. If you want to dive at Barracuda City, you'd have to first learn swimming if you do not how and then enrol on scuba diving training from the many diving centres at Andamans. You'd, of course, have to complete a specified number of dives before you can get an advanced-level scuba certification.

Q. 3 : When is the best time to scuba dive at Barracuda City, Havelock Island?

Answer: The best time to scuba dive at Barracuda City in Havelock Island is from November to March. The weather is pleasant around this time and there's hardly any rain, which is the perfect weather for scuba diving. It is risky to scuba dive during the rainy season as the visibility underwater becomes very low and there are always chances of a storm. While you can scuba dive until June, the weather will become very hot and humid, the Andamans being a tropical region. There are always chances of sudden rain, even though the weather may start pleasant in the morning. As such, you'll get many discounts around this time. Make sure you check the forecast and listen to the diving instructor when you go for a dive.

Q. 4 : Is Barracuda City good for scuba diving?

Answer: Barracuda City is one of the less explored diving spots on Havelock Island since it is very deep and only expert divers can access it. This makes the diving spot less crowded and secluded; hence, you can enjoy a dive without many human interventions. The spot is known for its soft and hard corals and other vibrant marine life. It is common to spot many different types of turtles in Barracuda City. You may also come across many sting rays. Given its depth, it is considered a challenge for many scuba divers, who flock to Barracuda City from across the world to test their scuba diving skills.

Q. 5 : How much does it cost to dive at Barracuda City, Havelock Island?

Answer: Experienced divers usually go to Barracuda City for recreational diving and to increase their dive, the latter of which impacts their diving level. Since the dive is deep and can be challenging, it also looks good on their portfolio. Most diving centres at Havelock Island charge around INR 4500-7000 per drive. The package includes scuba gear, a boat ride, and a guide who knows and understands the terrain at Barracuda City well. You can also add a video and photo package to the package in case you want your experience captured. Some diving centres also add the accommodation cost to the scuba package. In that case, the cost will be impacted by the type of accommodation.

Q. 6 : How do you reach Barracuda City, Havelock?

Answer: Barracuda City can be reached from both Port Blair and Havelock Island. Most people prefer going to the diving spot from Havelock Island as the island has many other diving spots nearby that they can explore. From Port Blair, Havelock Island is only accessible by ferry, as the island does not have a commercial airline base. You can fly down to Port Blair, and from there, take a ferry from a government-run jetty. The tickets don't cost much: around INR 300-500 per person on one side. It will take you around 2-3 hours or more to reach Havelock Island as the distance to be covered is almost 70 km. The view is stunning, so you can count the journey as one of the dun things you can do in the Andamans.

Q. 7 : What kind of marine life can you explore at Barracuda City?

Answer: Barracuda City is known for its rich marine ecosystem that is full of beautiful and colourful fishes like butterfly fish, Angelfish, Lionfish, snappers, fusiliers, and of course, the famous Barracuda that will suddenly pop out of the corals. No wonder it is called Barracuda City. There are many other giant fishes as well like the common rainbow wrasses, scorpionfish, Sweetlips, and surgeonfish. Hiding in the sandbank are octopuses who wait patiently for their prey. Above, and closer to the surface, you'll stingrays effortlessly glide through the translucent water. Barracuda is also home to large thickets of both soft and hard corals.

Q. 8 : Are there any medical conditions that may hinder your scuba diving plans at Barracuda City?

Answer: If you have any respiratory issues or heart issues, you may want to be careful before diving at Barracuda City, especially, because it is a deep diving site. Scuba diving requires you to have strong respiratory organs as you'd have to regulate your breathing under the water quite frequently, especially, if the dive is deep and the air pressure is low. If you face any respiratory issues, you should consult your doctor before going for the dive. Don't ignore any heart-related issues either. You should ideally get a clearance from your doctor so that you are not at any risk.

Q. 9 : Are there any places to explore near Barracuda City?

Answer: There are so many places that you can explore near Barracuda City. Port Blair is not so far, so you can explore the museum and the Cellular Jail. If you want to feel one with nature, then you should stick to Havelock Island. The island is a paradise of beautiful beaches and dense mangrove forests. There are many popular beaches in and around Havelock. Radhanagar and Elephant beach are two of the most popular beaches on Havelock Island. Neil Island is also close by, so if you want a bit more privacy, hop in there for a calmer environment.

Q. 10 : Are there any other diving spots at Havelock Island?

Answer: There are many diving spots at Havelock Island. Some of the most popular diving spots include the Aquarium, Lighthouse, the Slope, the Wall, White House Rock, Nemo Reef, Inchkeith Wreck, Red Pillar, Dixon's Pinnacles, Jackson's Bar, and Johnny's Gorge.
Talk to our Scuba Diving Expert