Scuba Diving in Broken Ledge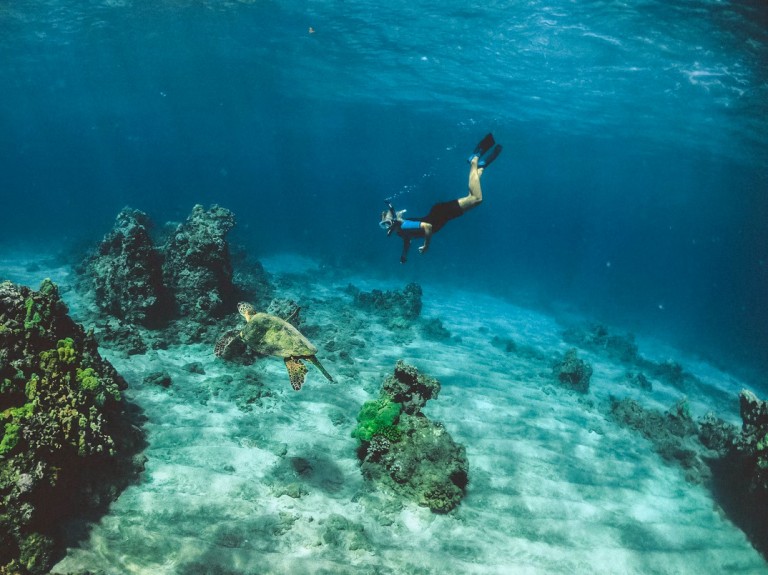 About Broken Ledge, Havelock Island (Swaraj Dweep)
Discovered in 2010, this dive site has relatively low depths and sheltered conditions. As a result, it is sought-after among scuba divers having different experience levels. It is made up of low-lying rocky outcrops resembling a broken ledge. It emerges from the bottom at nearly 24 meters. The ledge is surrounded by sand. The site is inhabited by a diverse variety of reef fish such as Moorish idols, lionfish, Napoleon wrasse, and shoals of snappers. Other in-house residents include turtles, schooling longfin bannerfish, and marbled groupers. One can also spot bigger fish like white tip reef sharks, marbled rays, manta rays, dogtooth, and yellowfin tunas here. At Broken Ledge, divers can smoothly swim through the canyons. They can spot residents that are usually hidden behind the rocks and overhangs. The corals are very beautiful and attract so many tropical fishes.
Depth:
24 meters to 30 meters
Level:
Advance
Aquatic life includes:
Moray eels
Napoleon wrasses
Triggerfish
Marbled groupers
Schools of snappers
Bannerfish
Barracudas
Dogtooth tunas
Yellowfin tunas
Factors affecting the scuba diving experience
There are various factors that affect the perfect scuba diving experience at Broken Ledge such as:
Safety
Water depth
Water clarity
Coral population
Fish population
Water current
Weather
Frequently Asked Questions
Q. 1 : What is the depth of the Broken Ledge, of Havelock Island?

Answer: Broken Ledge is one of the deep-diving scuba spots on Havelock Island. The depth starts at 16 metres and can be as deep as 25 metres or more. Given the depth, it is a great spot for advanced-level scuba divers to challenge themselves to a complex dive.

Q. 2 : When is the best time to scuba dive at Broken Ledge, Havelock Island?

Answer: While you can scuba dive all year round, it is the weather that plays spoilsport during monsoons. Getting underwater is risky during rain. That's why most diving centres cancel all scuba diving appointments if the weather is not good. The Andamans is a tropical region, and the chances of heavy and arbitrary rain are also high during the monsoons. The monsoon season in the Andaman and Nicobar Islands starts around July and lasts up to September. So, any time before or after that should be good for scuba diving. The best time to scuba dive in Broken Ledge Havelock Island is from late October to March. This is because the weather is great around this time and the chances of rain are less. You can also go scuba diving until June; however, the weather is very hot and humid around that time. Also, there are always chances of frequent rains.

Q. 3 : How much does it cost to dive at Broken Ledge, Havelock Island?

Answer: Broken Ledge is only meant for experienced scuba divers who have advanced-level certifications. As such, rates that apply to beginners and people who do not know how to swim do apply here. Experienced divers who go to Broken Ledge for recreational diving have to pay anything between INR 4500-7000 per dive. The dive will include a guide who's more familiar with the underwater terrain at the diving spot, a boat ride, and, if you want, even a package of videos and photos. Some scuba diving packages also include the stay, but the price will go up or down depending on the accommodation.

Q. 4 : Is Broken Ledge good for scuba diving?

Answer: Broken Ledge is one of the most unique underwater terrains for scuba diving. There are lots of caves and crevices that you can explore underwater. One part of a ridge at Broken Ledge is broken and slightly separate from the rest of the ridge; hence, the spot got its name. Being a deep diving spot, it is a great spot to explore and challenge yourself if you are an advanced-level scuba level. To top it all, the spot boast of an incredibly rich marine ecosystem.

Q. 5 : What kind of marine life can you explore at Broken Ledge?

Answer: Broken Ledge is surrounded by vibrant and exceedingly beautiful marine life. You'll find lots of large fish and shy turtles gliding in the water along with you. Wherever you look, you are bound to see a variety of rainbow wrasse, lionfish, snappers, giant groupers, and large groups of Moorish idols. Since the spot has many crevices and caves, it is an excellent place for many moray eels and other sea creatures to hide from their enemies as well as hunt for their food. But that's not all: deeper into the water, you'll find majestic white-tip sharks, yellow tooth tuna, and even dog-tooth tunas. Above you, there will be manta rays and even marble rays surveying the sea bed for food.

Q. 6 : Can beginners and non-swimmers dive at Broken Ledge?

Answer: No, if you are a beginner to scuba diving, you may not be able to dive at Broken Ledge even if you know how to swim. Of course, if you do not know how to swim, you will not be able to tackle the deep dive. Only experienced divers with advanced-level certification, go to dive at Broken Ledge.

Q. 7 : How do you reach Broken Ledge, Havelock?

Answer: Broken Ledge being a deep dive is a little further away from Havelock Island. It is more than 20 km away and a boat ride may take you around 30-40 minutes. But to even do that, you have to first reach Havelock Island, which does not have any commercial airline base. The only place you can fly to is Port Blair, which is the capital of the Andaman and Nicobar Islands. From Port Blair, you can take a ferry from the government-run jetty. Tickets are just around INR 300-500 per person. Havelock is 70 km away from Port Blair, so you'll take around 2-3 hours to reach the island by ferry.

Q. 8 : Are there any places to explore near Broken Ledge?

Answer: There are many places that you can explore near Broken Ledge. There are many islands in the Andamans, so you can get your guide to take you to one of them for a short trip. If you intend to relax, there's no better place than Havelock Island, which has many beautiful beaches. When you are at Havelock, remember to visit Radhanagar beach, which is considered one of the best beaches in Asia. A lot of people also like exploring the Govindnagar and Elephant beaches. Neil Island is also very close to Havelock Island. There are many beaches and diving spots at Neil Island also. If you want to get away from the crowd, you can visit Neil Island.

Q. 9 : Are there any medical conditions that may hinder your scuba diving plans at Broken Ledge?

Answer: Scuba diving requires you to control your breathing under the water. As such, you mustn't have any severe respiratory issues. If you think you may have breathing issues and want to scuba dive, you should visit your doctor to ask if you can still dive under such conditions. You should do the same if you have any heart issues.

Q. 10 : Are there any other diving spots at Havelock Island?

Answer: Do not be heartbroken if you cannot explore the Broken Ledge because of your lack of experience. There are tons of amazing scuba diving sites across Havelock Island and even the islands nearby where you can explore the underwater world. Aquarium and Lighthouse, for instance, are the most famous diving sites for beginners to scuba dive and even those who do not know how to swim. The slope, White House Rock, Pilot Reef, Turtle Bay, Nemo Reef, and Seduction Point are other great places to dive. Diving spots like Jackson's Bar, Johnny's Gorge, the Wall, Minerva's ledge and even Inchkeith Wreck are meant for experienced divers.
Talk to our Scuba Diving Expert