Scuba Diving in Johnny's Gorge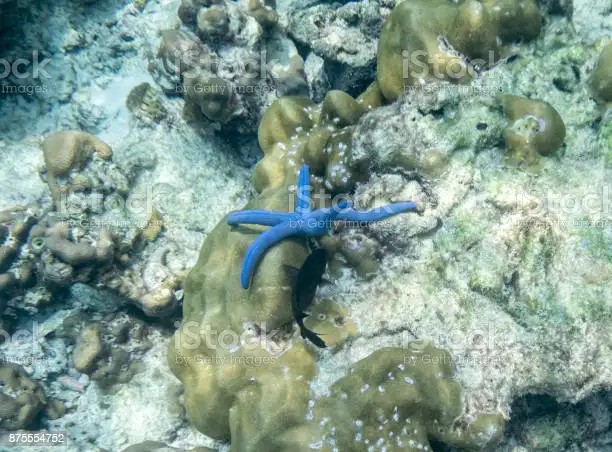 About Johnny's Gorge, Havelock Island (Swaraj Dweep)
This site in Havelock Island (Swaraj Dweep) was named after Johnny, a local dive master, who discovered it. The topography of this dive site in the Andaman Islands comprises low-lying rocky outcrops at a depth of 98 feet. The sea bed is dotted by gorgonians and multicoloured soft corals. Bustling with life and activity, it is surrounded by sands from everywhere. A variety of small angelfish, anemone, and surgeonfish take refuge at the rocks of Johnny's Gorge. One can spot magnificent schools of mackerel, trevally, snapper, Andaman sweetlips, barracuda, giant groupers, batfish, tuna, queenfish, unicorn fish, and so much more here. And if you are lucky, friendly dolphins may also greet you.
Type of dive site:
Depth:
Maximum 30 meters
Maximum 40 meters
Visibility:
20 meters or more
Current:
Light to mild
Required scuba diving level/certification:
Advanced - CMAS 2
Boat trip duration:
1 hour 20 minutes
Aquatic life includes:
Manta ray
Stingray
Eagle ray
Moray eels
Tuna
Groupers
Lionfish
Octopus
Nudibranchs
Napoleon wrasse
Trevallies
Hard coral
White-tip reef Shark
Coral flora
Factors affecting the scuba diving experience:
Safety
Water depth
Water clarity
Coral population
Fish population
Water current
Weather
>
Frequently Asked Questions
Q. 1 : Can beginners and non-swimmers dive at Johnny's Gorge?

Unfortunately, unlike many dive sites at Havelock Island, Johnny's Gorge can be accessed only by experienced divers who have advanced-level scuba certification. So, both beginners and, especially, people who cannot swim, cannot dive at Johnny's Gorge. This is because the dive is very deep making it possible for only advanced divers to explore it. Also, the water current can vacillate between light and strong.

Q. 2 : What is the depth of Johnny's Gorge, of Havelock Island?

A dive at Johnny's Gorge can go as deep as 34 metres. However, you cannot explore anything at 30 metres as there's visibility only until 16 metres, although, you can still see things vaguely up to 30 metres.

Q. 3 : Is Johnny's Gorge good for scuba diving?

Johnny's Gorge is one of the most beautiful scuba diving spots on Havelock Island. The gorge attracts experienced scuba divers from across the world, who come here to challenge themselves to a deep dive. But the best part of Johnny's Gorge is the white-tip shark. While, if you are lucky, you may be able to explore sharks at a few other diving sites at Havelock, it is in Johnny's Gorge that they flock to in groups. You'll be able to spot many white-tip sharks at the bottom gliding through the water or relaxing on the sandbanks.

Q. 4 : What kind of marine life can you explore at Johnny's Gorge?

If you ever wanted to swim with sharks, there's no better place in India than Johnny's Gorge. The diving spot boasts many white-tip reef sharks which you'll find to be gliding alongside you or right in front of you. If you have the patients, you'll also spot different types of rays swimming through the strong current. Much higher above, closer to the surface are the local barracudas, angelfish, tunas, fusiliers, snappers, longfin batfish, and clown triggerfish. You'll also spot groups of sweetlips that deceptively look like snappers. Around you would be sponges that are said to be more than 1000 years old and vibrantly hued gorgonians and soft corals.

Q. 5 : How do you reach Johnny's Gorge, Havelock?

Johnny's Gorge is located 18 km away from Havelock Island, so you'll have to take a boat to the diving spot. Your diving centres will provide you with a boat ride as part of your scuba diving package. To dive at Johnny's Gorge, you'd have to first reach Havelock Island. The only way to reach the island is by ferry via Port Blair. Havelock Island does not have a commercial airport, so you'd first have to take a flight to Port Blair's Veer Savarkar International Airport. Thereafter, you can take a ferry from the government-run jetty at INR 300-500. Ferries from Port Blair usually go to Havelock twice a day – once in the morning and, again, in the afternoon. It may take you anything between 2-3 hours to reach Havelock.

Q. 6 : How much does it cost to dive at Johnny's Gorge, Havelock Island?

Johnny's Gorge is primarily meant for experienced divers who usually have to pay per dive. Usually, the diving centres charge scuba divers INR 5000-7000 per dive. The cost includes a boat ride and a guide who will be able to show the diver the marine ecosystem. There are also videos and photos included in the dive in case a scuba diver is interested. You might have to pay more or less per dive depending on what you want to add or remove from your package.

Q. 7 : Are there any medical conditions that may hinder your scuba diving plans at Johnny's Gorge?

Yes, certain medical conditions may deter you from scuba diving at Havelock Island. One of the most important ones is a respiratory illness of any kind. You need strong respiratory organs to support your dive, especially, since you have to control the flow of your breath underwater. You should speak to your doctor and get a clearance before you go for your dive. Heart patients should also try to avoid scuba diving unless their doctor says that they can go ahead with the dive. Pregnant women are not allowed to dive as it may be risky for them.

Q. 8 : When is the best time to scuba dive at Johnny's Gorge, Havelock Island?

Late October onwards is the best time to go to the Andaman and Nicobar Islands for scuba diving. The good period lasts until the end of March when the weather is still dry and pleasant. Since Havelock Island is located in the tropics, from May onwards, the weather becomes very hot and humid. There are also many erratic and heavy spells of rain on the island that makes scuba diving and any other kind of water activity impossible. If you are a budget traveller, you may want to travel during the off-season; however, make sure that you check the forecast for the time of your visit. Nevertheless, since the island experiences erratic rains, your diving instructor may cancel your dive if the weather gets bad.

Q. 9 : Are there any other diving spots at Havelock Island?

Havelock Island is full of diving spots. Since the discovery of the first diving spot at the Wall in 2004, divers have discovered innumerable spots on all sides of the island. If you want to challenge yourself, try Dixon's Pinnacles, Jackson's Bar, Minerva's Ledge, the Wall, and Inchkeith Wreck. If you are a beginner to scuba diving, try the slope, White House Rock, Lighthouse, Seduction Point, Turtle Bay, Pilot Reef, and Aquarium. Many diving sites are accessible by both experienced as well as new divers; although, at different depths.

Q. 10 : Are there any places to explore near Johnny's Gorge?

Johnny's Gorge is located near Havelock Island, which is one of the most-visited islands in Andaman and Nicobar Island. Havelock is the best place to be if you want the perfect beach vacation. You can enjoy the white sands at Radhanagar beach, which is one of Asia's best beaches. If you want some privacy, go to the Govindnagar beach. If you want to have fun, however, you must go to Elephant beach, where you can enjoy many different kinds of water sports.
Talk to our Scuba Diving Expert