Scuba Diving in Rutland Island, Port Blair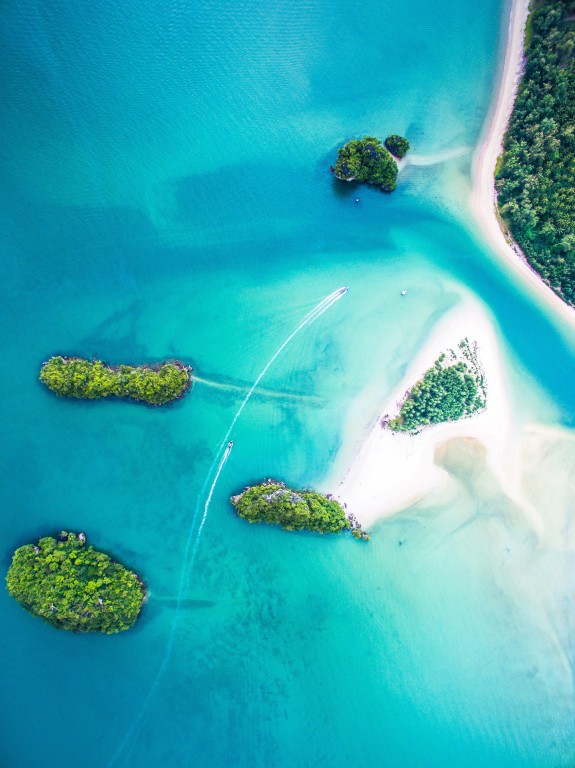 About Rutland Island, Port Blair
The picturesque Rutland Island lies in the south of Port Blair's far tip, the far tip of India. The island makes up the South Andaman district. Out of its six villages, Dani Nallah is the most popular for the memorable marine life and turtle breeding experience it offers. The island is around 110 square kilometers. Rutland Island is all about fun, excitement, and, natural beauty. There, you would feel as if you are in the lap of nature. It is a tiny island. With the shallow waters near the island, the destination is extremely rich in marine life. The place offers a good representation of smaller fishes and corals. Its waters are known for keeping some of India's best treasures. If you are someone who loves the rush of being underwater, then this is going to be the perfect opportunity for an adventure enthusiast like you. An ideal base for training divers, Rutland Island is visited by adrenaline junkies a lot. The dive will be for around half an hour that will take you about 39 feet deep into the ocean.
Depth
39 feet
Suitable for
Beginners
Aquatic life includes
Hard corals
Sea turtles
Pipefishes
Eagle rays
Seaweed beds



Frequently Asked Questions
Q. 1 : Where is Rutland Island situated?

Answer: Rutland Island is situated in the South Andaman area of the Andaman and Nicobar Islands in India. The island is located about 20 kilometers from the capital city, Port Blair. Further, it is a part of the famous Mahatma Gandhi Marine National Park and is popular for its exquisite coral reefs and rich marine life.

Q. 2 : When is the best time for scuba diving on Rutland Island?

Answer: The ideal time for scuba diving on Rutland Island is from October to May. During these months of the year, the sea is usually calm and the weather is dry. This offers perfect visibility underwater, which is excellent for scuba diving. Nonetheless, we recommend you check the weather conditions and predictions prior to planning a trip to Rutland Island since the weather can be quite unpredictable in the Andamans.

Q. 3 : What sort of marine life can you expect to see during your scuba diving session on Rutland Island?

Answer: Rutland Island is popular for its wide variety of marine life, such as a variety of species of reef fish, sharks, rays, and sea turtles. Moreover, the coral reefs in the region are popular for their gorgeous formations and vivacious colors. These offer habitat to a wide range of aquatic creatures.

Q. 4 : Which scuba diving courses are obtainable on Rutland Island?

Answer: On Rutland Island, you can choose from a range of scuba diving courses based on your requirement. There are courses available for everyone, from beginners to experienced divers. They are provided by certified scuba diving operators and are created to teach divers the required techniques and skills necessary for an enjoyable and safe scuba diving experience. Some of the popular courses offered by operators are Dive Master, Rescue Diver, Advanced Open Water Diver, Open Water Diver, and Discover Scuba Diving.

Q. 5 : What equipment are you required to have for scuba diving on Rutland Island?

Answer: In order to perform scuba diving on Rutland Island, you will require a scuba tank, weight belt, wetsuit, dive computer, buoyancy control device or BCD, regulator, snorkel, fins, and a mask. A majority of scuba diving operators on Rutland Island provide the required equipment to all their customers. Nonetheless, we recommend you get your own fins and mask so as to make sure that they fit perfectly and are comfortable for you.

Q. 6 : What are some safety rules to follow for scuba diving?

Answer: Scuba diving is completely safe when performed properly with the guidelines in mind. It is crucial you take the necessary precautions and follow the instructions provided by your diving operator. These include not taking the plunge under the influence of drugs or alcohol, neither disturbing nor touching the aquatic life, and staying within the suggested depth limits. It is also suggested to get a certification in this water sport ahead of going for a dive in open water.

Q. 7 : Can you take photographs underwater while scuba diving on Rutland Island?

Answer: The answer to the question is yes. One can take photographs underwater while performing water sports on Rutland Island. Several scuba diving operators provide underwater photography and videography services. In case you are not a certified underwater photographer, we recommend you keep your camera aside and avail of their services. Also, remember to not disturb, touch, or move any marine creatures for the betterment of your photos or videos.

Q. 8 : What are some of the popular diving sites on Rutland Island?

Answer: There are numerous diving spots on Rutland Island - each of them provides a rather special experience to divers. Some of the most sought-after diving spots on Rutland Island are The Wall, Barracuda City, and Margherita's Mischief. The first is a vertical drop-off that provides a tempting experience of diving. Barracuda City is famous for its schools of large fish and barracuda. And finally, Margherita's Mischief is popular for its wide array of marine creatures as well as splendid coral formations.

Q. 9 : What is the temperature of the water on Rutland Island?

Answer: The temperature of the water on Rutland Island varies from 25 to 30 degrees Celsius year-round. Not only is it warm but it is also ideal for scuba diving. This implies that divers can sport lightweight wetsuits and can even take the plunge in a swimsuit.

Q. 10 : What is the average depth of waters on Rutland Island for scuba diving?

Answer: The average depth of water on Rutland Island for scuba diving varies from five to 20 meters. In fact, some diving spots even have depths of 30 meters. Nonetheless, the dive's depth is entirely dependent on the diving site opted for and the experience of the diver.

Q. 11 : How long do scuba diving sessions on Rutland Island last?

Answer: Typically, the period of a diving session on Rutland Island is completely based on the diver's experience level and the diving site they choose. Nonetheless, we can say that they usually last from 30 to 60 minutes. Further, a multiple-dive session can even last for as long as four hours.

Q. 12 : Is scuba diving safe for non-swimmers on Rutland Island?

No, non-swimmers are not allowed to perform scuba diving on Rutland Island. Scuba diving is a water sport that requires a minimum level of swimming ability and divers must be capable of swimming a minimum of 200 meters without any help.

However, contradictory to most diving operators, some of them provide beginner scuba diving programs to individuals who are not proficient in swimming.

Q. 13 : How much does it cost for a person's scuba diving session on Rutland Island?

Answer: The price for an individual's scuba diving session on Rutland Island is dependent on the scuba diving operator, the duration of the dive, and the dive site opted for. Usually, a single dive can be priced between INR 3,500 and INR 6,000. A multiple-dive package is more expensive and can cost from INR 10,000 to INR 20,000.
Talk to our Scuba Diving Expert