Scuba Diving in Dixon's Pinnacle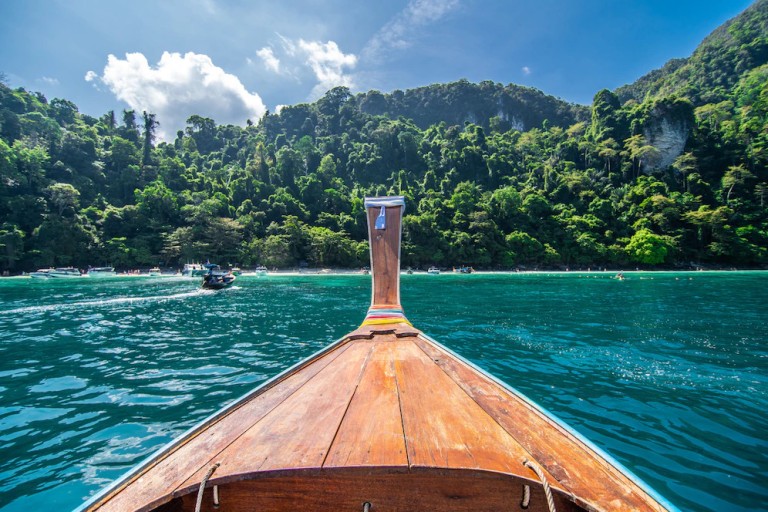 About Dixon's Pinnacle, Havelock Island (Swaraj Dweep)
Located in the east of Havelock Island, this is quite an extraordinary dive site that promises a lifetime of adventure. Divers can see 3 rocky pinnacles and an expansive reef. The fauna in its clear waters is just incredible! You will be able to spot fishes wherever you turn. The depth starts from 16 meters and thus, it is more suitable for those who are pursuing their scuba diving education. Dixon's Pinnacle comprises three giant rock pinnacles emerging from a dim bottom. A local instructor discovered it and the site was named after him. A happening place, it is popular for its rich and colorful marine life. Continuous frenetic activity can be seen at the top of the pinnacles as it is a cleaning station for giant groupers. White-tip reef sharks can also be seen there. Other inhabitants consist of large Napoleon wrasse, titan triggerfish, moray eels, shrimps, tunas, green turtles, red-toothed triggerfish, manta ray, trevally, lionfish, sting rays, and batfish.
Depth:
16 meters to 35 meters
Suitable for:
Those pursuing an advanced open-water license
Aquatic life comprises:
Soft yellow corals
Barrel sponges
Batfish
Indian glassy fish
Surgeonfish
Leopard-spotted moray eels
Stingrays
Trevally
Humphead wrasse
Napoleon wrasse
Angelfish
Frequently Asked Questions
Q. 1 : When is the best time to scuba dive at Dixon's Pinnacle, Havelock Island?

Answer: The best time to scuba dive at Dixon's Pinnacle is from November to March. The weather around this time is pleasant and not hot or humid, as tropical islands tend to get. One of the most important reasons why this period is best for scuba diving is that the chances of rain are very less during this time. Scuba diving cannot happen when it rains, because not only does that impact visibility underwater, but there are also greater chances of getting stuck in a sudden storm. You can also scuba dive during monsoon season if the weather allows. But the chances of your dive getting cancelled are always high.

Q. 2 : Is Dixon's Pinnacle good for scuba diving?

Answer: Dixon's Pinnacle is without a doubt the best place to scuba dive on Havelock Island. The diving site along with Jackson's Bar and Johnny's Gorge form the holy trinity of scuba diving sites on Havelock Island. Every year, scuba divers from all around the world visit Havelock Island to test their diving skills at Dixon's Pinnacles. The name comes Dixon comes from the person who first discovered the dive site. The diving site also has three pinnacles underwater that you can explore. The dive at Dixon's Pinnacles is deep and the view is incredibly beautiful. It is one of the major cleaning stations for many marine animals.

Q. 3 : What is the depth of the Dixon's Pinnacle, of Havelock Island?

Answer: Dixon's Pinnacle is known to have one of the deepest depths among all the diving sites on Havelock Island. The diving depth starts at 16 which is more that the maximum depth at many diving sites. You can go as deep as 35 metres or even more at the dive site. The visibility is low at that depth but you can still easily see the various flora and fauna.

Q. 4 : How much does it cost to dive at Dixon's Pinnacle, Havelock Island?

Answer: Dixon's Pinnacle could be of the deepest and hardest dives at Havelock Island. That's why the diving spot is only meant for experienced divers who have advanced-level scuba diving certifications. Since experienced divers usually dive for recreational purposes, they are usually charged per dive. Each diving package is around INR 4500-7000 depending on what is included. You'll get a boat ride and a guide within the package. Even if you are an experienced diver, you'd need a guide who's familiar with the dive site so that they can take you to the right spots. You can also have videos and photos taken of your dive; the cost of the package may be impacted by this. Some diving packages also include accommodation. In such cases, the cost of your dive will be impacted by the type of accommodation you are provided.

Q. 5 : What kind of marine life can you explore at Dixon's Pinnacle?

Answer: Dixon's Pinnacles is one of the most popular marine cleaning stations near Havelock Island. You'll find many turtles and rays heading to the diving site to get themselves serviced by angel fish and many other kinds of reef fish. Don't be surprised to find giant trevallies and barracudas pop out suddenly from the many crevices. The three pinnacles are full of soft corals and are almost surrounded by different varieties of fish like batfish, Bannerfish, glass fish, and even tiny surgeon fish. Napolean wrasses are common around these parts as snappers like paddle tail and Bengal.

Q. 6 : Can beginners and non-swimmers dive at Dixon's Pinnacle?

Answer: Dixon's Pinnacles is a deep diving site. The minimum depth of the dive alone is 16 metres and it can go down to 35 metres. As such, it is not the best site for beginners to scuba dive here, especially, if you do not know how to swim. Most diving centres do not offer diving facilities for Dixon's Pinnacles to beginners. The dive is meant for intermediate or advanced-level scuba divers. To be an advanced-level scuba diver, you'd have to have made a specific number of dives on different topographies and used a variety of diving skills.

Q. 7 : Are there any places to explore near Dixon's Pinnacle?

Answer: Dixon's Pinnacles is located close to Havelock Island and the island is nothing else than a paradise. At Havelock, you can enjoy diving at so many other diving sites other than Dixon's Pinnacles. If you want to explore kinds of water sports like sea walking and snorkelling, you should visit Elephant beach. You may also be able to experience jet skiing and parasailing there. Radhanagar beach is well known throughout the world as one of the best beaches in Asia. If you want to explore the Nemo Reef, go to Govindnagar beach. Neil Island is also close by as are many other small islands where you can get away from the crowd.

Q. 8 : How do you reach Dixon's Pinnacle, Havelock?

Answer: The diving spot at Dixon's Pinnacle is around 19 km away from Havelock Island. Your diving centre will offer a boat ride, but it may take you around 30-40 minutes to reach the spot. Before that, you'd have to reach Havelock Island. The island, unfortunately, does not have any airport, so you'd have to take a ferry from Port Blair, the capital city of the Andaman and Nicobar Islands. Public ferries are available from the government-run jetty at Port Blair. It will take you around 2-3 hours to reach Havelock Island.

Q. 9 : Are there any medical conditions that may hinder your scuba diving plans at Dixon's Pinnacle?

Answer: If you have any respiratory issues, you'd have to first consult your doctor to be clear about your ability to dive. Scuba diving requires you to have the capacity to control your breathing, which becomes difficult if you have respiratory issues, especially, if the dive is as deep as Dixon's Pinnacles. You should also consult a doctor if you have heart issues before you go for a dive.

Q. 10 : Are there any other diving spots at Havelock Island?

Answer: There are many diving spots near Havelock Island. Beginners can try diving from the Lighthouse, Aquarium, Slope, Red Pillar, White House Rock, Nemo Reef etc. If you are an experienced diver, you can explore Johnny's Gorge, Jackson's Bar, Inchkeith Wreck, Minerva's Ledge, and the Wall.
Talk to our Scuba Diving Expert