Here's a universal truth: we are all allowed to go crazy for Valentine's Day. After all, it is one of the most special days that you can celebrate with the love of your life. But what about making it extra special? In fact, how about making it magical? You could just plan a trip to the Andaman Islands. The Andaman Islands are surrounded by beauty everywhere. Imagine how lovely it would be to lie on the cool golden sand and gaze at the bountiful night sky with your partner. You could treat yourself to a sumptuous dinner surrounded by twinkling candles afterward.
If you want to add more adventure to your Valentine's Day in the Andaman Islands, the place can even provide that. There are many fun water sports activities like scuba diving, sea walking, parasailing, snorkeling, etc that couples can do together in the Andaman. Wouldn't it be exciting to explore the underwater world with your loved one? Another good reason to spend Valentine's Day in the Andaman Islands is that February witnesses less tourism compared to the highs of December and January. Not only are the hotels and rooms cheaper, but the beaches are also less crowded. This means that you can enjoy ample privacy with your partner for Valentine's Day.
Hit the best beaches in Andaman
The Andaman Islands is a land of beaches. Without a doubt, spending your Valentine's Day in the Andaman Islands will be the best decision you ever make. Enjoy the stunning view of the sea, and the waves frolicking against the shore while you sip some yummy beverage. Doesn't that sound just mind-blowingly romantic? When you've had enough of the sand, visit one of the many shacks that line up the beach and treat yourself to some delicious food and some fabulous music. You should try the Nemo Café and Bar at the Havelock Island Beach Resort.
There are so many beaches in the Andamans that you'd need several trips to just cover some of them. Corbyns Cove, Radhanagar, Elephant, Wandoor, and Govind Nagar beach are some of the most beautiful beaches in the Andamans. Those looking for romance and privacy on Valentine's Day should head to the Govind Nagar beach. A gem of a place, the beach boasts a beautiful shoreline and an exciting underwater experience.
Many locals refer to the beach as Nemo beach because a Nemo reef thrives underwater near the beach. There are many resorts near Nemo beach where you can stay and explore the Nemo reef. Some of them even offer many couple-friendly activities. The Havelock Island Beach Resort, for instance, even offers many packages for scuba diving and sea walking for couples.
Rent a Scooty and go for a ride:
Okay, maybe, this idea is heavily influenced by pop culture, but haven't we all fantasised about going for a romantic scooty ride on a road flanked by beautiful palm trees? Good news, spending your Valentine's Day in the Andaman Islands can make this secret dream come true. The Andaman Islands are not just about beaches; the beautiful islands also boast a lush and verdant landscape. Since it is a small place, you can best explore the flora in a scooty. And what better way to do this than with your loved one?
There are lots of places that you can explore on your scooty, especially in Port Blair and Havelock. Beach hopping is easier on a scooty. Renting a scooty for a few days in the Andaman Islands is easy.
Get under the water with your partner
Romancing under the Sun is good, but do you know what is better? Romancing under the water! Make your Valentine's Day in the Andaman Islands special by going for a deep dive under the sea with your partner. If you want more excitement, try sea walking. And do not worry if are not trained in scuba diving.
The Havelock Island Beach Resort has many trained instructors who will make the underwater journey for you and your partner exciting and memorable. If scuba diving is not in your plan, you can also try other fun activities with your plus one. The Havelock Island Beach Resort offers a slew of water sports activities like Jet Skiing, Banana Boat ride, and Glass Bottom Boat ride at incredibly cheap rates. You can also try Parasailing if you are in the mood for some adventure.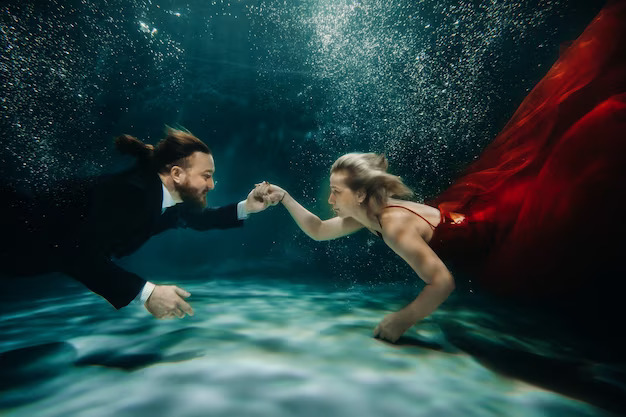 Take a luxury cruise
Nothing spells luxury like a cruise. This Valentine's Day, spoil yourself and your partner with a romantic cruise. Many cruises sail from one island to another within the Andaman Islands. If you want to make your Valentine's Day in the Andaman Islands special, there's no better way to do it than by booking a cruise.
There are many cruise options like Green Ocean, Makruzz, ITT Majestic, and Sea Link available for tourists. You can book from any of these options and set sail for the high seas with your lover. Wouldn't it be wonderful? The vast expanse of the sea, the lovely breeze, and you, with your partner. If this isn't the most amazing Valentine's Day experience, then what is?
Also, just because you are going on a cruise doesn't mean that it has to burn a hole in your pocket. You can opt for any kind of room depending on your budget – Economy, Premium, Deluxe, and Royal.
Get a couples massage:
Of all the list of activities for your Valentine's Day in the Andaman Islands, a couple's massage is probably the best and the most popular. Soothe your skin and heal your body with a spa treatment like never before at the Havelock Island Beach Resort. Enjoy getting pampered along with your partner while sipping some fun beverages. This is also one of the best ways to spend your Valentine's Day.
The resort also has a wide range of therapies like Detox, De tan, head and face treatments, and body polishing. Yes, both of you can just spoil yourself as you like.
Watch the sunset and enjoy a candlelight dinner
This one involves the beach, but you may go wherever you like. Do you want to surprise your partner with a candlelight dinner, but then you do not know where to begin? The Havelock Island Beach Resort makes everything so much easier for you. All you have to do is dress well for your loved one, and the resort will make you have a stunning Valentine's Day in the Andaman Islands.
The best news is that you can choose from a variety of candlelight dinner packages at the Havelock Island Beach Resort. You can get balloons, candles, get a decorated canopy right at the beach. Are you feeling adventurous again? The resort also offers a candlelight dinner on a boat. Isn't this the most perfect end to your special day?